Starter Kit For Baby Photography
Posted by Punitha Ubendiran on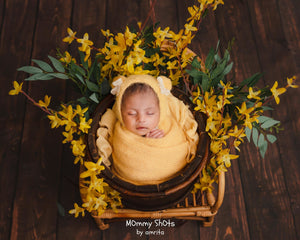 If you are new to baby photography and wondering what gear and props you would be needing to kick start your baby photography journey this blog will help you guys.
First of all you should know your style. Discuss with your clients about their expectation and style preference and plane your setups accordingly.
Let's see what are the things you would be needing
1. BACKDROPS AND BACKDROP STAND
For a photo session, having a backdrop (and of course, a backdrop stand) is essential. You can start with a few different backdrops(there are available in different materials like poly, vinyl and canvas, you can buy according to your preference and budget), using a mix of solids and patterns. You can also use soft blankets, which you can attach to the stand using clamps but soft blankets may give you wrinkles which would be difficult to remove when you edit your images. So its better to invest on few backdrops in different sizes. You can get a lighter solid colors and change the color in edititng.
2. WRAPS, BLANKETS AND RUGS
There are so many ways you can use a wrap to create beautiful shots, such as bundling the baby, using it just as additional element in the setups, also  it can be used as a blanket or cover, as a diaper cover up, and many other ways, the options are just endless just put on your thinking hat and use it the way you want.
Similarly blankets and rugs also known as flokati can be used to style in different ways.  This can be used for newborn, sitter sesion, maternity, family  portraits etc.
3. BUCKETS, BASKETS AND CRATES
Additional props like buckets, baskets, crates and other props of a similar nature can be used to add beauty to your photographs. You can style these props in different ways to make your images looks vibrant and catchy.
There are so many variations on how you can use these props. For example: some crates can be used placing the baby belly up or belly down inside the crate, or achieving a completely different take by turning the crate down and posing the baby on top of it.  Similarly the buckets can also be used to make a 6month old sit inside and make them pose .
Use layers, furs, fluffs, blankets to style and add some final touches to the prop.Blankets and wraps can also be very useful in supporting a baby's arms and face as you are posing them inside the prop.
4. OUTFITS
When your subject is dressed in a tutu, a sailors outfit, a mini chef suit or a bumble bee, will look so pretty and bound to be a favorite for your clients. So investing on few mini outfits initially will also help. As you can give options to your clients with themes they can choose for.   
5. ADDITIONAL ACCESSORIES
These include the tiny little props like a small teddy bear, or hearts, bumble bee, flower bunches, bonnets, headbands, tiaras and many more. Adding these will help your setups to look more catchy and the clients would love such things.     
Hope now you have an idea on what to get initially to kick start your baby photography journey..!! ALL THE BEST and waiting to see your beautiful creations.
 HAPPY CLICKING..!!!
Image Credits: 
mommyshotsbyamrita
prettypicturesbyps
tinnyyawnsphotography
littledimplesbytisha
madhusharan_photography
---
Share this post
---
---